On Wednesday night, two evenly-matched rivals take part in a passionate battle with an iconic venue split between a red and a blue corner. That's right, AC Milan vs Internazionale is probably closest football comes to a boxing bout.
The Derby della Madonnina takes centre stage as the two Milan rivals contest the Champions League semi-finals.
As soon as the Milan derby match-up was finalised, one image came through on social media. One of Inter defender Marco Materazzi standing with Milan's Rui Costa as the 2005 Champions League quarter-final tie between the two teams was abandoned due to fan and flare trouble. Fireworks really do get unleashed when these two teams meet.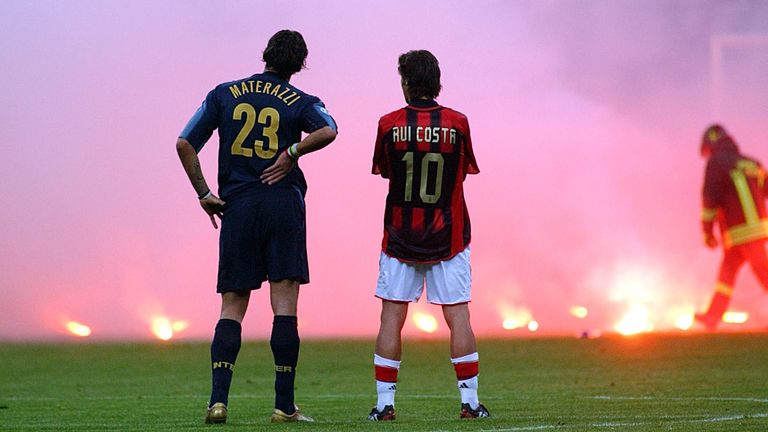 But the return of this image into the public sphere is a sign that one of Europe's iconic cities is returning to the top of the football pyramid.
In the early 2000s, Inter and Milan were up there among the Champions League greats. Milan reached the final three times between 2003 and 2007. Inter completed the treble under Jose Mourinho in 2010. Back then, nobody would have imagined that it would be over a decade until these two teams even came close to repeating such feats again.
But in the past two seasons, this city has seen the Serie A title shared between its two clubs, seen famous Champions League nights return and more iconic images of club rivalry – such as Romelu Lukaku's clash with Zlatan Ibrahimovic – painted among the city. The good times have returned.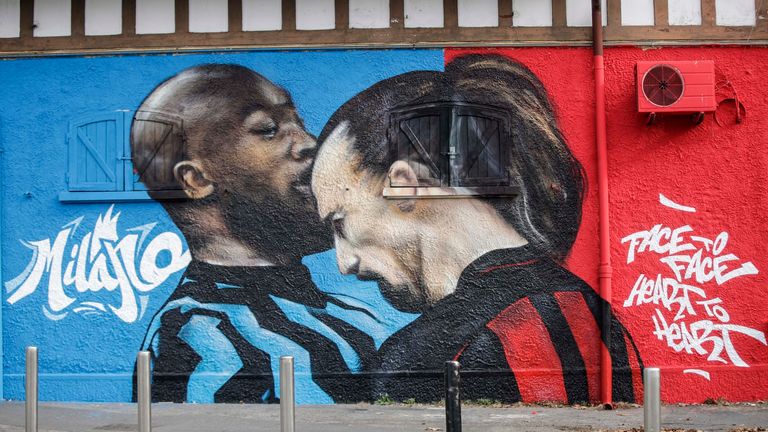 Two teams who can't leave each other alone
What is special about this Milan rivalry is these two clubs have risen and fallen together in the Italian pyramid. They don't just share their stadium, they share a recent history of success and failure.
Both rose to the peak of their powers when Juventus were relegated to Serie B after the 2006 Calciopoli scandal. Both suffered as the Premier League's popularity forced their owners into financial desperation and mismanagement.
And then all of a sudden, in the last two seasons, the two Milan clubs have risen together again under new ownership. These two teams have not just competed for the Serie A title alongside each other, winning one Scudetto each, they have even undergone similar dips this season.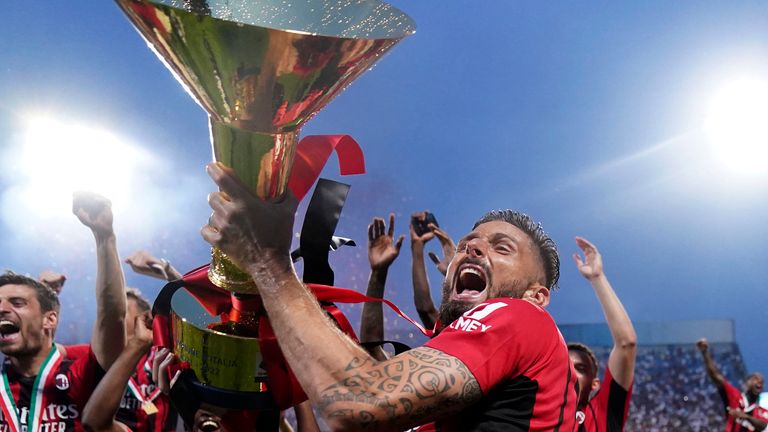 At the start of the year, AC Milan went seven games without a win. Inter, meanwhile, only ended a run of one win in eight games in all competitions in the middle of April. Those runs have left both sides fighting each other for a fourth-placed spot in Serie A – adding more tense context to the upcoming semi-final.
Perhaps this is not so surprising given both have currently hired two similar managers – ones who are not known to be great innovators of the game, rather pragmatic coaches who deliver in the big matches.
In the red corner is Stefano Pioli who is Milan's big-game specialist. This season, the Rossoneri have beaten Inter, Juventus, Napoli – three times – and Lazio this season due to Pioli's innovation.
The manner in which the Milan manager navigated his team through their Champions League quarter-final with Napoli was particularly impressive.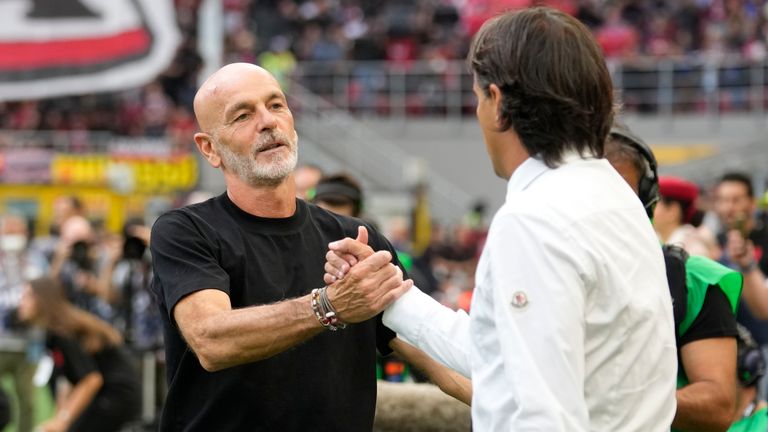 Italian football expert Nicky Baldini told Sky Sports News: "The way Milan played that quarter-final was such a masterclass from Stefano Pioli in how to play your team to adapt against a difficult opponent, how to recognise your team's limitations and play that counter-attacking football which they did so effectively.
"And how to neutralise the key threat of your opponent, he did that through the way he took Khvicha Kvaratskhelia out of the game in that tie."
And in the blue corner is Simone Inzaghi, who got the Inter job after Antonio Conte's departure in 2021 due to his remarkable work at Lazio.
At the Stadio Olimpico, Inzaghi was famed for getting the best out of an aging Lazio side containing many players in their 30s by turning them into cup specialists.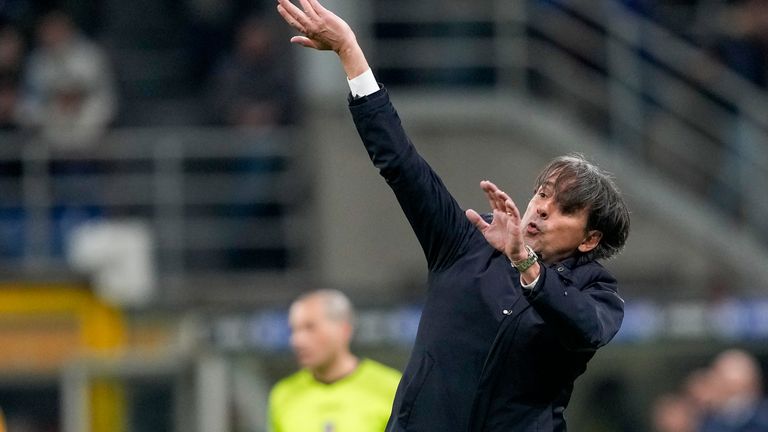 Here Inzaghi, the brother of AC Milan great Filippo, is operating under similar circumstances. Inter have named six Serie A starting line-ups with an average age of 30 and over – three times more than any other side.
And during his two years at Inter, Inzaghi has matched his trophy tally at Lazio of one Italian Cup and two Super Cups. Perhaps the Champions League is next…
AC Milan striker Olivier Giroud has been reflecting on his two seasons at the club and admits the move was right after a difficult time at Chelsea

Team news: Leao lacking as LuLa steps up?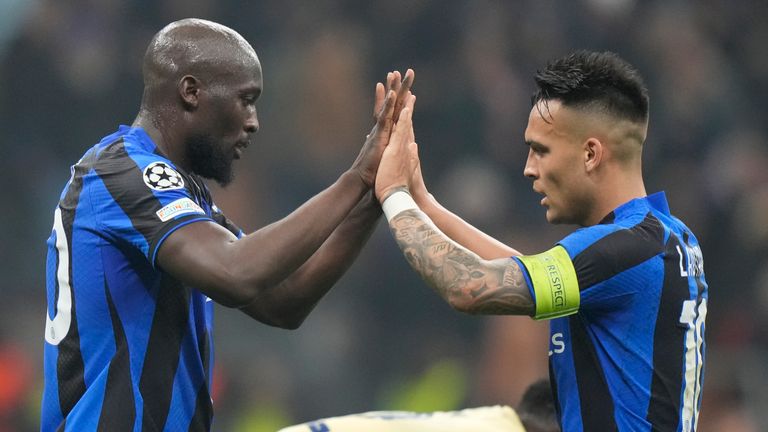 If formbook matters going into this one-off semi-final, then Inter are in the ascendancy.
The Nerazzurri have won each of their last five games in all competitions – with all of their key forward players firing at the moment.
Lukaku has three goals and three assists in his last three games for Inter, while Lautaro Martinez – who formed such a pivotal 'LuLa' partnership with the Belgian as Conte's Inter won the title in 2021 – has scored five times in his last four games.
"What has changed is that now I have the possibility to rotate important players, especially in attack," Inter coach Simone Inzaghi said. "I didn't have that for a long time and the situation has changed a lot now.
Probable Milan derby line-ups
AC Milan (4-2-3-1): Maignan; Calabria, Kjaer, Tomori, Hernandez; Krunic, Tonali; Brahim, Bennacer, Saelemaekers; Giroud
Inter Milan (3-5-2): Onana; Darmian, Acerbi, Bastoni; Dumfries, Barella, Brozovic, Mhikitaryan; Dimarco; Dzeko, Lautaro
"I didn't have [midfielder] Marcelo Brozovic from October 1 until the end of January – they were four very long months. The same with Lukaku. Both of them are back to doing what they do best and I hope that continues until the end."
If Inter are flying, there is more concern with an inconsistent Milan. The biggest of all is Rafael Leao's injury sustained in the weekend's 2-0 win over Lazio.
The Portuguese winger, whose wonderful run and assist was crucial in getting Milan through a tricky quarter-final with Napoli, limped off after 10 minutes and has not trained as of game day. A second-leg appearance is more likely than rushing him back for the first.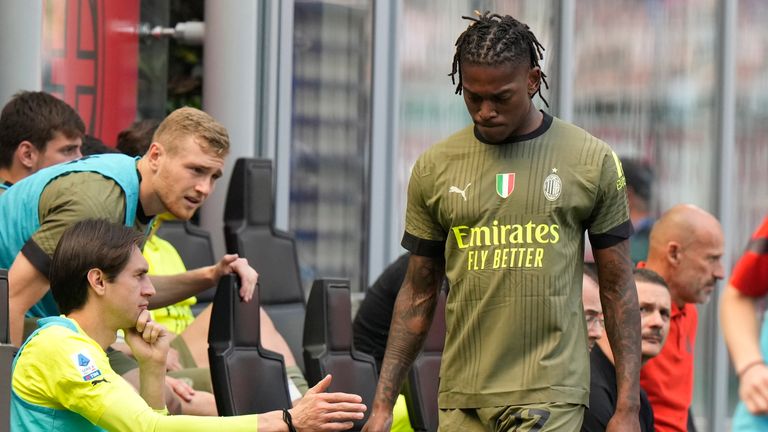 No matter who gets through to next month's Champions League final, this will largely be deemed as a season which saw Italian football rise back into prominence from the ashes.
As for the city of Milan? After two years of holding the Scudetto, it lost the Serie A title to Naples last week. But what better way to take back the limelight with a Champions League semi-final that divides the city.
Adblock test