An emotionally drained Pep Guardiola heralded Manchester City's Champions League title as "written in the stars that it belonged to us".
City completed the treble with a hard-fought 1-0 win over Inter Milan in the Champions League final.
Having already overhauled Arsenal to retain the Premier League trophy and beaten Manchester United to lift the FA Cup at Wembley, victory in Istanbul saw them match the achievement of their city rivals in 1999.
Guardiola was in tears afterwards and a cut an emotional, exhausted figure.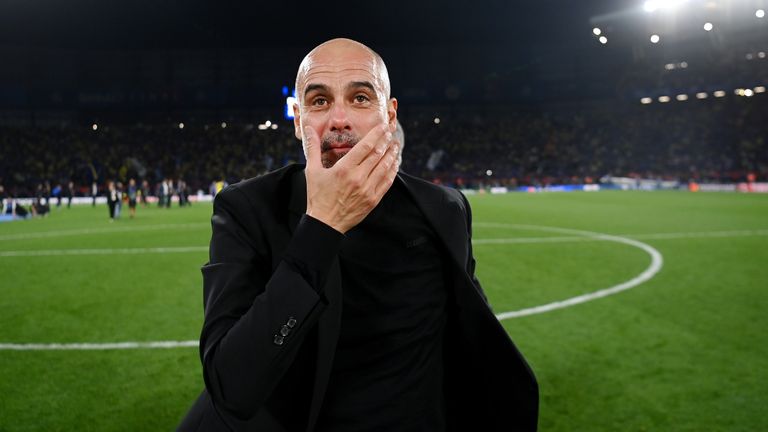 "This trophy is so difficult to win," said Guardiola. It could not be different and we knew it, firstly because they are really good.
"The first half we were so anxious. We could not find the free man, John Stones. But it was a question of being patient. I said at half-time, last time, in Porto, we were 1-0 down, now it's 0-0. We adjusted some things but you have to be lucky in this competition.
" This competition is a coin [toss]. But we were there. I think it was written in the stars this season that it belonged to us and we did it.
Keith Curle pays homage to Guardiola after he spots him still working on tactics with his coaches after the final whistle!

"I think we defended a little bit better [than in 2021] in the box. We have four central defenders, proper defenders. Even when we make mistakes, we have the feeling we are solid.
"We didn't make a bad game. A little bit anxious in the first half but in general it was not bad. The momentum started winning the Premier League, then the FA Cup, and now we finish here.
"Winning this competition and the treble is so difficult, and that's why today is not important the way, it's just to do it."
Guardiola shows his appreciation toward Sir Alex Ferguson after receiving a supportive message from him ahead of the final

Guardiola has challenged his team "not to disappear" next season as they bid to defend their crowns.
"I don't want us to disappear after one Champions League," he said.
"We have to work harder. There are teams that win the Champions League that disappear – we have to avoid that. Knowing me, that won't happen. It's a big relief for the club, for the institution to win this trophy. Finally people won't ask me if I'm going to win the Champions League or not.
"Winning five Premier Leagues is exceptional but people have said no, you have to win trebles every season to be complete. I'm good but I'm not good enough to win trebles every season. Champions League are so tough. Real Madrid have the ability to do it year in, year out. People pretend the Premier League is nothing. Now we can get credit for the five Premier Leagues.
"To do what we have done in the last six seasons is unbelievable. It's not just the Champions League – it's many, many titles."
Grealish in tears: This is what you work your whole life for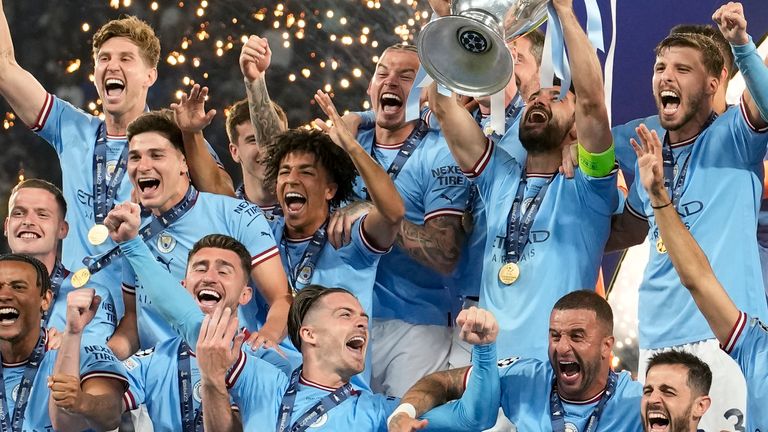 Jack Grealish speaking to BT Sport:
"This is what you work your whole life for. I'm so happy. I was awful but I don't care… to win the treble with this group of players is so special.
"To see my family in the crowd makes me emotional.
"I just said [to Guardiola] I want to thank you. You've made this happen for me. So much faith in me, buying me for a lot of money, even last year when I was playing **** he stayed with me, spoke to me and this year he's given me that platform to go and perform."
John Stones: "It's a pleasure to be a part of this team, to create history. I'm so pleased. I'm holding words back because I'm on camera, let's put it that way! We've set the bar high now! From where we were in the Premier League to bring it back, to win the FA Cup and then come here… I can't put it into words. I played more of a No 8 today, which I loved, and obviously I'm still learning."
Rodri: "We made history. But the thing is that we want more. We have more ambition. This is a dream. We deserve to celebrate because this might not happen again. I'm emotional, this is a dream come true. All these City fans have been waiting 20, 30, 40 years. I've been here four years. They deserve, we deserve."
Inzaghi: We didn't deserve to lose
Inter Milan head coach Filippo Inzaghi reflects on a heartbreaking defeat against Manchester City

Inter Milan boss Simone Inzaghi: "We do have regrets because a defeat is the worst thing in sport but at the same time I have to congratulate my lads. They were clearly sad and very disappointed but they must be proud of their campaign and of the final they played. They played a great game tonight. Obviously we didn't deserve to lose. We played against a top team but Inter played a great final.
"I can tell Inter fans they are, just like my lads, I'd hug them one by one because they were fantastic throughout all the campaign. In all the 20 months I've been with Inter we've gone through beautiful moments, some bad moments as well. It would have been fantastic to share this trophy with them by beating the strongest team in the world but we were there the whole time, we were on a par with Manchester City. We're all very disappointed but as I said on Friday I would never change my players with anyone else, with any other players and tonight everyone saw why I said so."
Adblock test