Frank Lampard has backed Chelsea's move for Edin Dzeko and believes that he offers the "something different" that the Blues need.
Antonio Conte has regularly bemoaned an inability to get top targets through the door at Stamford Bridge.
Further reinforcements are still required, having lost the title-winning experience of Diego Costa and Nemanja Matic, with the London club currently in talks with Dzeko.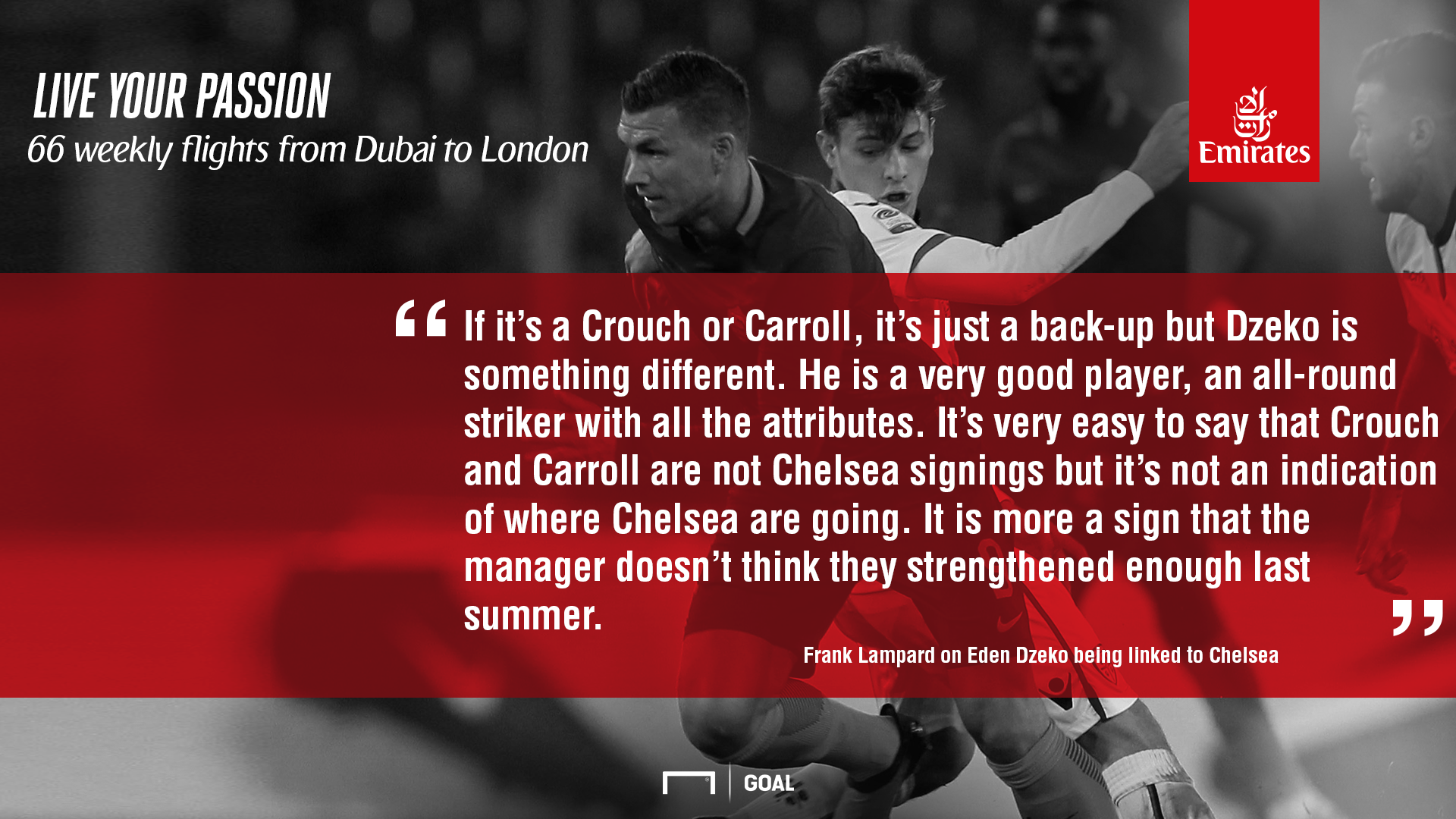 Lampard feels the former Manchester City star would be a shrewd addition, with the Bosnia international a better fit for a club of Chelsea's stature than other mooted targets such as West Ham's Andy Carroll and Stoke City's Peter Crouch.
The Blues legend told the Evening Standard: "Carroll and Crouch are not the kind of names Chelsea have gone for in the past.
[embedded content]
"But January is a tough one and [Alexis] Sanchez is a one-off. The majority of the time you're looking at making minor adjustments.
"If it's a Crouch or Carroll, it's just a back-up but Dzeko is something different. He is a very good player, an all-round striker with all the attributes.
"In terms of investing heavily, that will come in the summer. It's very easy to say that Crouch and Carroll are not Chelsea signings but it's not an indication of where Chelsea are going.
"It is more a sign that the manager doesn't think they strengthened enough last summer."
Chelsea  are currently third in the Premier League standings while also readying themselves for an FA Cup fourth round clash with Newcastle and a heavyweight last-16 encounter with Barcelona in the Champions League.
There is, therefore, still all to play for, with Lampard convinced that a testing season can end on a high.
He said: "This is when the experienced players are vital – there is nothing wrong with getting everyone together and reminding everyone to push.
"Chelsea do need to get their act together. They have the spirit there. They have the players.
"When Chelsea get it right, as we saw last season, they can take on anybody. It is certainly not the time to give up."
Let'