Did VAR take pity on AC Milan?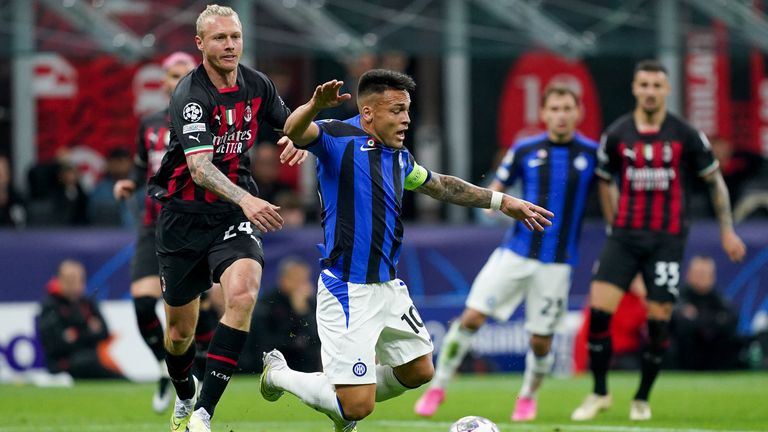 It was one of the most one-sided Champions League semi-finals you are ever likely to see, especially in the first 45 minutes. With 40 minutes on the clock Inter Milan – the away team, remember – had posted 11 shots on the AC Milan goal, with the hosts racking up just one miserly effort in return. That shot count for Inter really should have been 12, though, after the lively and industrious Lautaro Martinez looked to have won a penalty off Simon Kjaer.
An arm went across the player right in front of the referee. It was not a stonewall penalty but the case to argue against it after it had already been given was tough. No clear and obvious error there, everyone thought. Apart from the team in charge of VAR. The referee was alerted to his "mistake" and once called to the screen there was little chance of him rowing against his comrades in the booth, although he had a strong case to do so.
At 3-0, the tie is over.
But now, thanks to help from VAR, there is hope with AC Milan only trailing 2-0.
Lewis Jones
Leao absence not AC Milan's only issue
Much was made of Rafael Leao's absence for AC Milan at the San Siro. The loss of their most dangerous attacking player was certainly a blow. But it does not explain their defending. Or, more accurately, the complete lack of it. They had bigger problems.
Inter carved through them with ease, scoring twice in the space of three minutes and creating a succession of other chances. A little more cutting edge – and a little less generosity from VAR – and this tie would have been over by half-time.
AC Milan had only conceded four goals in their previous nine games in all competitions but Fikayo Tomori and Kjaer could not cope with Edin Dzeko and Martinez, the Inter pair dragging them out of position repeatedly, opening up huge spaces.
The centre-backs were not helped by what went on around them. In midfield, Sandro Tonali and Rade Krunic were overrun, with Henrikh Mkhitaryan in particular causing havoc between the lines, Inter exploiting the uncertainty caused by Ismael Bennacer's early withdrawal due to an injury.
That injury, like the one suffered by Leao in Saturday's win over Lazio, was untimely. But this defeat was not just down to misfortune. Any repeat of this shambolic defending in next week's second leg and even Leao will not be able to save them.
Nick Wright
Dzeko shows why he's still the man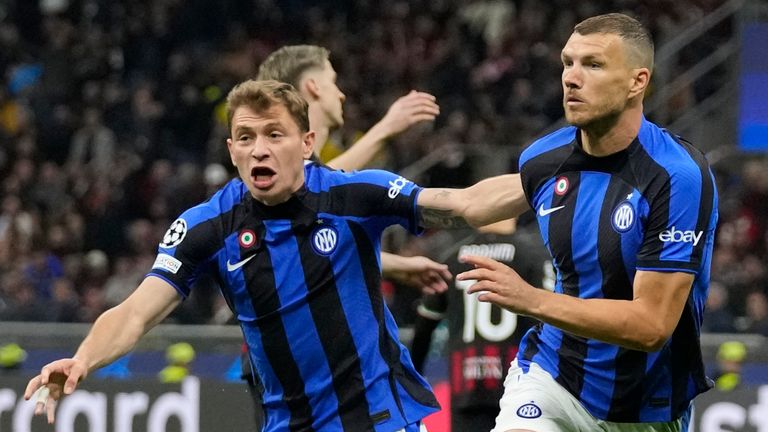 Romelu Lukaku was pushing for a start against AC Milan having scored five goals in his previous nine appearances for Inter but it was Edin Dzeko who got the nod from manager Simone Inzaghi to partner Lautaro Martinez. The decision paid off emphatically.
The former Manchester City striker turned 37 in March but he is still scoring freely in Italy and this was a reminder that he can do it on the European stage too. His goal was his fourth in the competition this season. He has started all five of their knockout games.
His opener was brilliantly taken, Dzeko showing his physical and technical prowess all at once as he held off Davide Calabria and rifled home a sumptuous volley. His role in the second, meanwhile, showed the other side of his game, his intelligent off-the-ball run opening up the space Henrikh Mkhitaryan needed to finish.
Inter will look to him again to finish the job next week.
Nick Wright
Man City come through Bernabeu test
The Athletic's David Ornstein and The Daily Mail's Riath Al-Samarrai reflect on Kevin De Bruyne's brilliant performance at the Bernabeu

It was a curious night because – as Pep Guardiola pointed out afterwards – Real Madrid scored when Manchester City appeared in control and City then equalised just when the game seemed in danger of slipping away from them. He will take it.
Although Carlo Ancelotti also claimed to be satisfied with the score – and will back Vinicius Junior and the rest to cause problems on the counter-attack – this was the more daunting half of City's assignment in this tie. It came with bad memories too.
This was the scene of that improbable collapse one year ago, when City succumbed to the sheer force of will of Madrid on a mission. After suffering something like that, the last thing they needed was even a hint that their opponents had the greater knowhow.
When Vinicius' shot struck the back of the net, it will have challenged the resolve of Guardiola's players. Much is made of the manager's long wait to lift this trophy again, but not one of the players on that pitch for his side has yet won this Champions League.
If there are doubts, that is when they emerge. When Madrid have seemed comfortable surrendering possession, soaked up your best shots and punished you on the break. There was a trademark swagger about them after that. It was a test of nerve for City.
They came through it courtesy of Kevin De Bruyne. With Erling Haaland receiving close attention, someone else had to step up. It was fitting that it was him. "He helped us in the moment we most needed it," said Rodri. How important that could be.
Fourteen times in 14 attempts at the Etihad Stadium in 2023, City have won the game. Do that in the second leg next week and they will be into the Champions League final. On an awkward evening in Madrid, that marks some result for Guardiola and his players.
Adam Bate
Rudiger shows how you can stop Haaland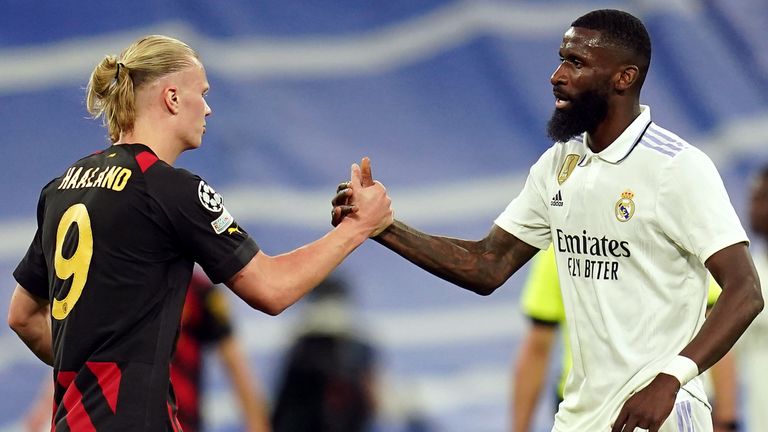 Within 90 seconds, Antonio Rudiger was already in the face of Haaland following an aggressive piece of defending that led to a foul being awarded. He ran back in position goading the striker. It's easy to forget that Haaland is still learning the game at 22 years old and Rudiger clearly wanted to test his composure in the heat of a Champions League semi-final. There aren't many defenders in world football who possess the confidence, authority and experience to go and have a battle one-vs-one with the Manchester City striker – but Rudiger is that player. He was in his ear, pulling his shirt and just generally being a bit of a nuisance.
Of course, it's impossible to completely nullify him as he managed to get three shots away over the 90 minutes but the attempts only equated to an expected goals figure of 0.3, highlighting how Rudiger kept the chances falling his way to low-probability ones. Rudiger showed stopping a record-breaking phenomenon can be done.
Lewis Jones
Vinicius is the star of the show
While Haaland was restricted, it was Vinicius who had his moment – and what a treat it is to watch this player shine. Ancelotti calls him the game's most decisive player and it is hard to argue when the man scored the winner in last season's Champions League final.
Here he was again, smashing the ball into the net to turn the tie in his team's favour. The Brazilian is skilful but it is the speed at which he is able to execute those skills that sets him apart.
Kyle Walker was at his limit in trying to contain him, which only made you wonder how someone who was not lightning quick themselves would have looked. City are well placed to progress. But there can be no complacency with Vinicius on the team-sheet.
Adam Bate
Manchester City manager Pep Guardiola described his players' performance in the 1-1 draw with Real Madrid as 'exceptional'

What's next?
Real Madrid's next game is at home to Getafe in LaLiga on Saturday – kick-off 8pm.
The European champions then travel to the Etihad to take on Man City in their Champions League semi-final second leg on May 17 – kick-off 8pm.

Sunday 14th May 1:00pm


Kick off 2:00pm

Ahead of their rematch with Real, City go to Goodison Park to take on Everton in the Premier League on Sunday, live on Sky Sports; kick-off 2pm.
Man City's remaining fixtures
May 14: Everton (A) – Premier League, kick-off 2pm, live on Sky Sports
May 17: Real Madrid (H) – Champions League, kick-off 8pm
May 21: Chelsea (H) – Premier League, kick-off 4pm
May 24: Brighton (A) – Premier League, kick-off 8pm, live on Sky Sports
May 28: Brentford (A) – Premier League, kick-off 4.30pm
June 3: Manchester United (N) – FA Cup final, kick-off 3pm
Adblock test