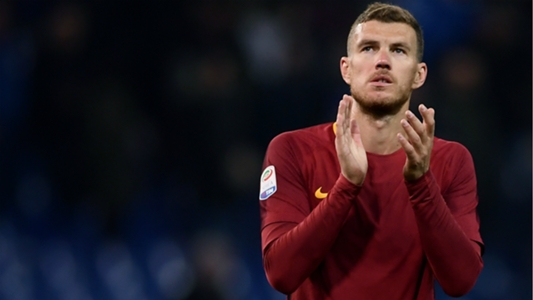 Edin Dzeko has admitted he was flattered by Chelsea's attempts to sign him in January, but could not bring himself to leave Roma.
The Blues targeted the striker as they sought a backup option for Alvaro Morata, but their initial bid was deemed "not interesting" by Roma technical director Monchi.
After signing Emerson Palmieri from the Italian side, Chelsea remained hopeful of luring Dzeko to the capital until the final days of the transfer window but eventually turned their attention to other options and signed Olivier Giroud from Arsenal.
And Dzeko confirmed that he held talks with the reigning Premier League champions, but he feels at home in the Italian capital and did not want to move.
"It is true that negotiations have been conducted and that is all I can say about this topic," he told Klix. "There was a lot of speculation, falsehoods and even a few ridiculous stories, and I'm really flattered by Chelsea's interest, a club that I respect and admire very much.
[embedded content]
"So many stories have been told about my departure from Rome over the past few weeks, but I am still here. After all, I am happy to stay because Rome has become my home and an indelible part of my life.
"From the very first day I was accepted in Rome in an unreal way and I can never and will not forget it, and I have had some of the happiest moments in my life in this city.
"For the first time I felt the joy of fatherhood here when my daughter Una was born, and my son Dani was born in Rome. This city is now part of my life and it will always be."
Despite finishing second in Serie A last season, Roma sit fifth in the table after 22 games and 16 points behind leaders Napoli.
The Giallorossi have failed to win any of their last six in the league, but Dzeko is sure they can overcome their poor spell.
"The fact is that we haven't celebrated a win for a long time, which is very frustrating for us, but we haven't had enough luck in several games," he said.
"We're all working hard to get back to winning ways as soon as possible, but it's going to be difficult.  We have quality and I'm convinced that it's a question of when we will end this bad run and find a winning rhythm.
"I believe that there are many more beautiful moments ahead of us and we will succeed in achieving all our goals together."
Let'