You could win £250 this week if you can pick 7 anytime goal scorers from our list of Goal Star Strikers.
Play the Goal Star Strikers game and you can win £250 of Amazon vouchers to spend on the latest football kits and boots!
PLAY FOR FREE
Gareth Bale returned to action with Real Madrid this weekend with a goal. Bale is included in this week's Goal Star Strikers: The goal scorer prediction game where you can win £250.
We've already had 3 winners, each winning £250 in Amazon Vouchers for correctly picking 7 goal scorers from the list of Star Strikers. It's free to play and you can challenge your friends to play with you here.
This weeks round features players from clubs competing in the Champions League, Europa League and Spain's Primera Division. It's free to enter: you just have to select 7 players you think will score in the next round of games to be in with a chance of winning the prize.
Don't forget to confirm your entry by registering for Goal, you have to register to enter the competition and qualify for the prize.
To give you some tips on who to choose, our Fantasy Football scout share his selection based on the players current form, shooting accuracy and goal scoring record. These are the strikers on this week's shortlist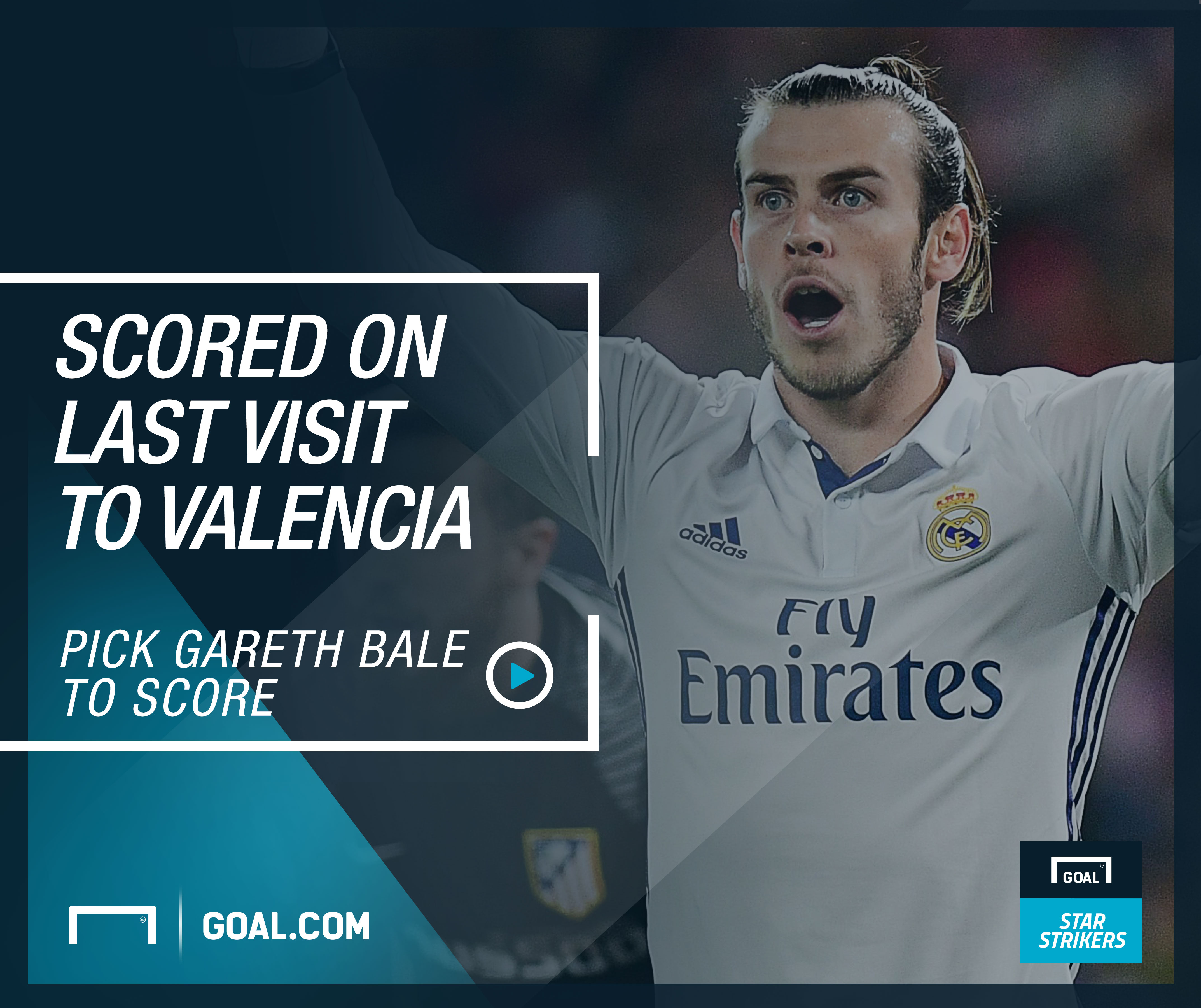 Gareth Bale
The Welshman was in fine form on his return from injury and scored the goal that clinched victory for Real over Espanyol. Bale scored the last time Madrid played away to Valencia and he looked sharp enough at the weekend to suggest he can find the net again. He has scored 5 goals in 11 appearances and has a shooting accuracy of 49%.
Raheem Sterling
Sterling has only scored 1 goal in 5 appearances in the Champions League this season, but his recent performances have been encouraging. City host Monaco in this first leg tie and this is the type of game Sterling enjoys playing in. He has a shooting accuracy of 40% and there are odds of 15/8 for him to score in 90 minutes.
Chicarito
The Mexican striker has scored 3 goals in his last 5 games for Leverkusen, who will host Atletico Madrid in the Champions League. Chicarito only has 1 goal in 6 appearances this season but he has an impressive shooting accuracy of 80%. The odds on him scoring are 9/4.
Zlatan Ibrahimovic
The United talisman has scored twice in his last 5 games and he currently has a 75% shooting accuracy. With United holding a comfortable 3-goal lead over St. Etienne, he may not start the second leg in France. But if United struggle, they may need to bring him on. The odds on Zlatan scoring in this tie are 6/5.
Edin Dzeko
The Bosnian has to be on this shortlist, he has scored in his last 5 games and scored 3 in Roma's away leg victory against Villareal in the Europa League. He has a shooting accuracy of 62% and has scored 8 goals in only 6 appearances.
Gonzalo Higuain
Higuain is another Serie A striker in excellent form, having scored 4 goals in his last 5 games. He has 3 goals in 5 appearances in the Champions League and he will look to add to that record when Juventus travel to Porto on Wednesday. Higuain has a shooting accuracy of 54% and there are odds of 11/8 for him to score.
Cristiano Ronaldo
Real Madrid will travel to Valencia on Wednesday night in an important game in the Primera Division. CR7 scored twice in the reverse fixture in September and now has a total of 14 goals in 16 league appearances. He has a shooting accuracy of 51%.
Do you agree with these selections? Who will you pick? Select your Star Strikers HERE