The Egyptian has formed the most prolific partnership in Europe with Edin Dzeko, meaning the winger's absence is a major blow for the Giallorossi
---
COMMENT
---
Thomas Vermaelen has a long, sad history of injuries. The brittle Belgian has always been the unfortunate victim.
Ronaldo, Benzema, but no Bale – Real Madrid face major Clasico conundrum
That changed, though, during a training session at Trigoria on Wednesday, when a strong challenge by the centre-half left his Roma team-mate Mohamed Salah writhing on the ground in agony. Vermaelen immediately offered his sincerest apologies but they were of little comfort to Salah – or indeed Roma coach Luciano Spaletti.
The winger's injury could not come at a worse time for the Giallorossi, who will face city rivals Lazio at the Stadio Olimpico on Sunday in the most eagerly awaited and evenly balanced Rome derby for many years. True, there has been little to choose between them at various points during the past decade but not since the 2000-01 campaign have both looked simultaneously strong enough to at least challenge for the Scudetto. Back then, it was Roma who dethroned Lazio as the champions of Italy.
The Giallorossi presently occupy second place in the Serie A standings, four points behind Juventus but, crucially, just one clear of Lazio, who have been transformed under new coach Simone Inzaghi. The Biaconcelesti were utter disarray when their former striker returned to the Stadio Olimpico, with the club having been publicly humiliated by Marcelo Bielsa resigning as coach just two days after accepting the job.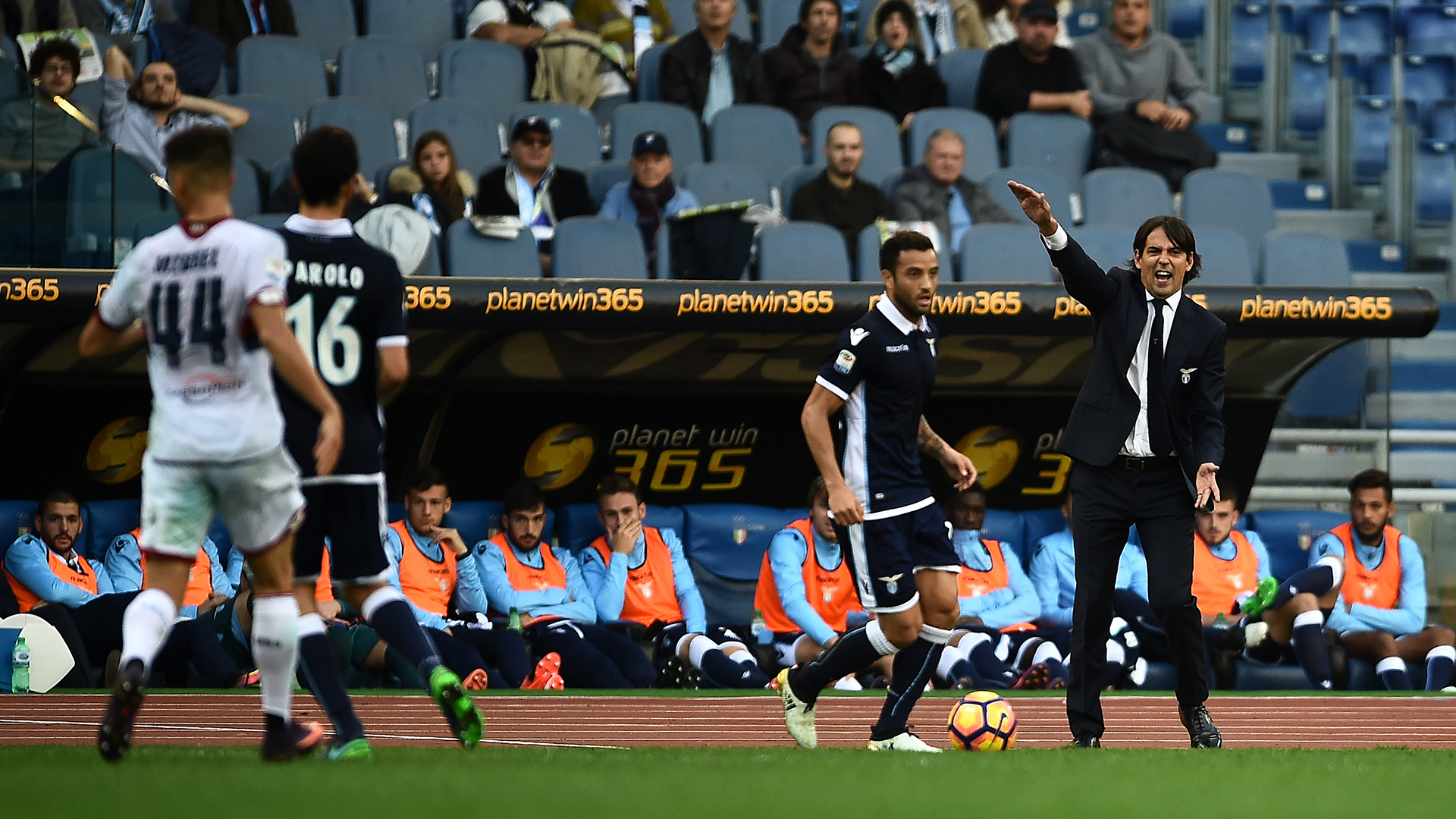 The Argentine explained that he had been promised four players would be signed by July 5 yet not one arrived. Lazio fans took to the streets to express their disgust with club president Claudio Lotito. Yet, six months on, the supporters are smiling again, with Inzaghi, who had only been brought in a temporary basis last season, having overseen a remarkable revival of the capital club.
As well as solidifying a defence that shipped 52 goals last season (more than any other top-10 finisher), Inzaghi has reinvigorated Ciro Immobile, restored Felipe Anderson's confidence and reintegrated Keita into his squad after it initially seemed certain that the young forward had played his final game for the club after a very public dispute over the severity of an injury sustained in pre-season.
You only know what you have when it's gone – how will Santi Cazorla's injury impact Arsenal's title hopes?
However, while Lazio's attackers have received plenty of plaudits, it is Roma's forward line that has been the toast of Serie A so far this season – and rightly so. At the moment, there is no prolific duo across Europe's top leagues than Salah and Edin Dzeko.
The pair have scored 20 Serie A goals and created a further nine between them. To put that in context, Lionel Messi and Luis Suarez's combined Liga tally for Barcelona is 17 goals, while Ronaldo and Bale have contributed 15 goals to Real Madrid's title charge.
Elsewhere, Diego Costa and Eden Hazard have been rightly earning raving reviews in the Premier League but even the Chelsea duo's impressive numbers (17 goals and 5 assists) do not compare to those of Salah and Dzeko, which is why the Egyptian's injury setback is such a blow for Roma.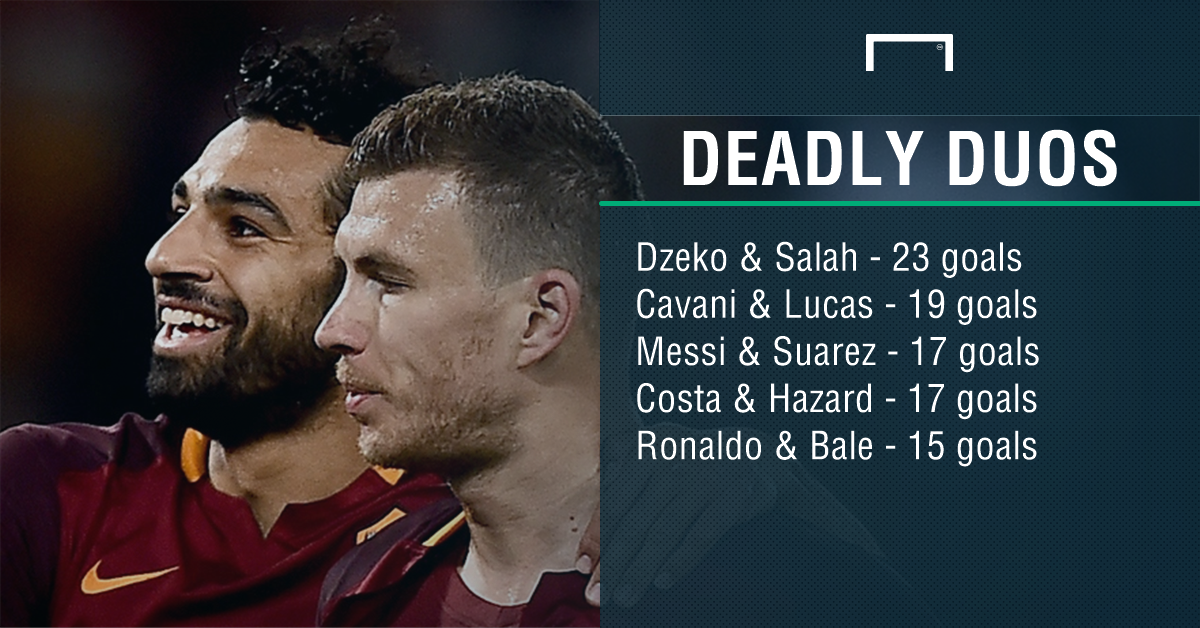 Discarded by Chelsea after just 19 appearances in all competitions, Salah reignited his career during a loan spell at Fiorentina before moving to another level at Roma, as underlined by the fact that no player has created more chances in Serie A this season (44) than the 24-year-old.
Dzeko has been the principal beneficiary for Salah's creativity, with the Bosnian currently in the form of his life. Never before had the former Manchester City man netted 12 times in the opening 14 rounds of the season. In total, he has 17 goals and 5 assists across Serie A and the Europa League.
Of course, this is made all the more remarkable by the shocking nature of Dzeko's performances last season, when each week he seemed intent on coming up with new and surprising ways of missing open goals. Spalletti believes that Dzeko simply struggled with the constant comparisons with Roma captain Francesco Totti, given the Sarajevo striker had effectively been signed to succeed the emperor of Rome.
"It's difficult for anyone to fight for a place with Totti and be clearly compared with him," he explained. "The crowd are a little more understanding of him now because he made the first move.
"Edin's first move was to tell me: 'Boss, I want to stay at Roma, I want to show my value.' That was the answer I wanted to hear.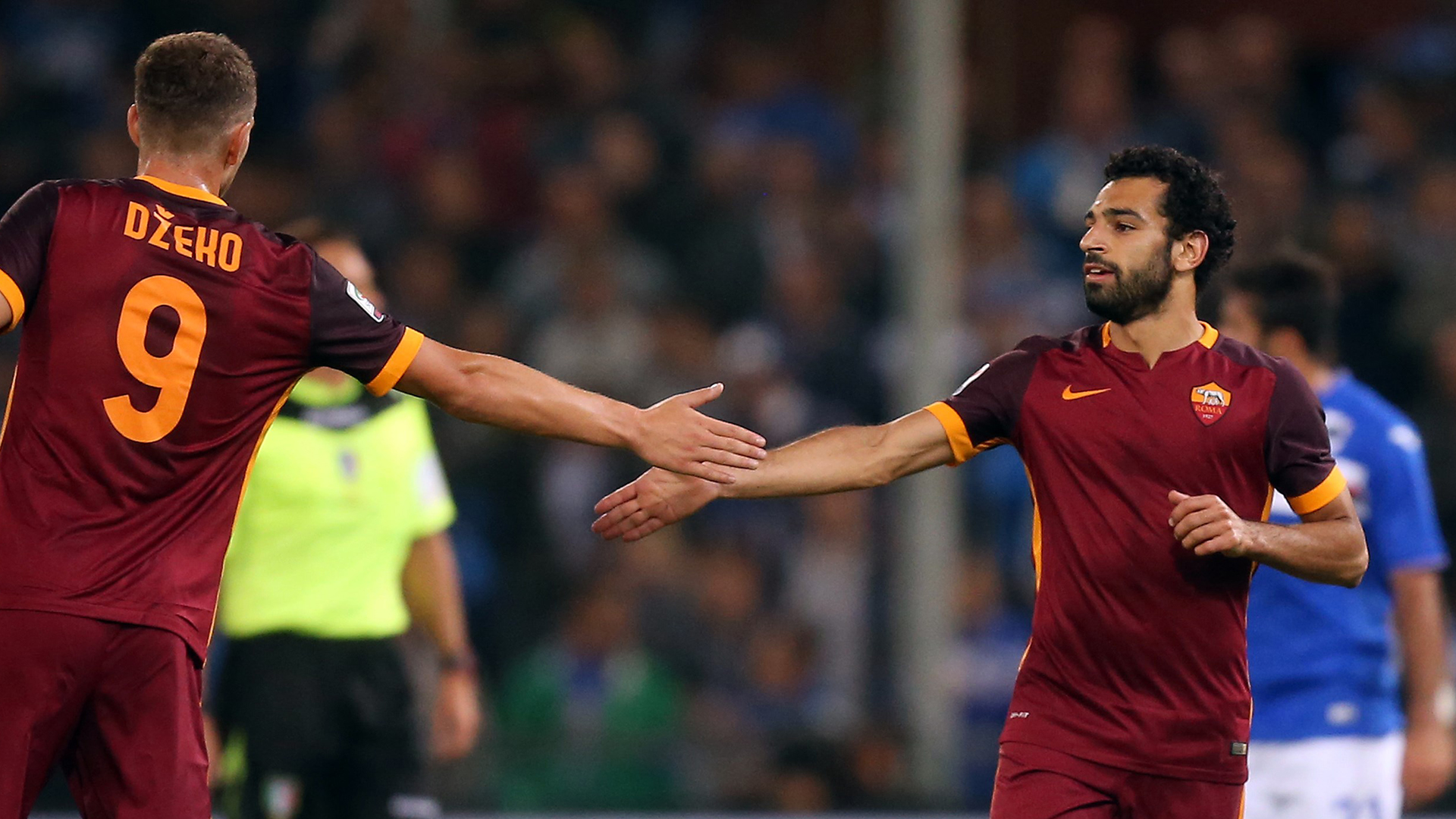 "I didn't help him last year, because there was one time where I subbed him off for [Francesco] Totti when he wasn't doing well. He came off to whistles from the stadium, while Francesco came on with all the stadium cheering. That was a major mistake on my part, I later realised.
"[Midfielder] Daniele De Rossi was criticised for it but he told the fans to stand by Dzeko, which helped Edin feel more at home here. He's a total footballer and is now taking on the responsibility of being a star at Roma."
Should he stay or should he go? Luis Enrique's Barcelona in danger of unravelling
However, he wouldn't be shining so brightly if it weren't for Salah and while Real Madrid coach Zinedine Zidane might be sweating over how best to cope without the injured Bale in Saturday's Clasico against Barcelona, Spalletti has an even more unenviable task in trying to somehow come up with a way of taking down Lazio without one half of the deadliest duo in Europe.
"It is difficult for other players to replicate the runs he makes," the Giallorossi boss conceded. "He's so fast that sometimes he makes mistakes but, at the end of the day, at the end of those runs, he's always ahead of his opponent."
Shorn of Salah's pace, Roma will thus be relying on Dzeko's predatory instincts more than usual. After netting twice against Pescara last weekend, the striker stated, "It was good but I always like to do even better." Against in-form Lazio, he will most certainly have to.